A Custom Electric - electrician in Los Angeles - Los Angeles Electric - Electrician in Beverly Hills Licensed Electrical Contractor, Bonded and Insured
Electrician Los Angeles
Electrician Beverly Hills
FREE ESTIMATES!!! LIFETIME GUARANTEE ON WORK!!! REASONABLE RATES!!!

Electric Panel Upgrade Specialist!
House Rewiring Specialist!
(Los Angeles, West L.A., West Hollywood, Beverly Hills, Hollywood)
Ph#: 323.428.4656 or 310.205.3733
Website: http://www.acustomelectric.com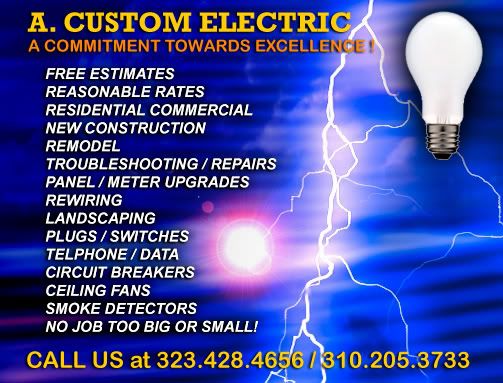 At A Custom Electric, We Are Here to Take Care of You, Not Take Advantage of You!
Read what these reviews
are saying about us -
CitySearch Click Here
Licensed Los Angeles Electricians, Local and Professional!
We are Los Angeles electricians who take pride in our workmanship and provide personalized service for each of our customers along with first class electrical service at reasonable prices.
We perform all types of electrical service for residential electrical and commercial electric projects.
Whether you need a fuse box replacement, electrical panel upgrade, house rewiring to a smoke detector or switch or plug replaced, call us! (323) 428-4656
Our Electrical Service:
• New Electrical Construction and Remodel Electrical Work
• Residential Electrical
• Commerical Electric
• Home Rewiring
• House Rewiring
• Electrical Panel Upgrade
• Electric Panel Replacement
• Fuse Box Replacement
• Arc Fault Circuit Breaker
• Circuit Breakers
• GFCI
• Electrical repair
• Generator Installation
• Electric Panel Box Replacement
• Kitchen Remodeling
• Landscape Lighting Installation
• Energy Saving Lighting
• Recessed Lighting
• Art Lighting
• New Plug Installed
• New Switch Installation
• Smoke Detector Installation
• Spa Wiring
• Pool equipment Wiring
• Ceiling Fan Installation
• Landscape Lighting Design
• computer Wiring | Data cable and CA T5 | CAT 6
• Phone Wiring | Phone Jack Installations
• 220 Volt Circuit
• Home Theater
• Flat Screen TV Installation
** Lighting Design | Custom Electrical Work A Specialty
We also specialize in :
** House Rewiring

** Electrical Panel Replacement

** Recessed Lighting Installation

** Generator Installation
CALL US TODAY AT 323.428.4656 or 310.205.3733
State Contractor License C-10 # 707392
http://www.acustomelectric.com
Email us: acustom@earthlink.net
http://digg.com/login/nb62536be7dcf4cb9eef62378b211aa37
Serving: Electrician Los Angeles, Electrician Beverly Hills, Electrician Hollywood, Electrician Studio City, Electrician West Hollywood
commercial electricians los angeles, los angeles electric, generator installers, electrical panel, electric panel, house rewire, house rewire los angeles, fuse box, lighting, transformer installation, knob and tube wiring, generator installation, electricians in los angeles, ,beverly hills electrcians, electrician in beverly hills,lighting contractor, electricians in los angeles, electrical panel, house rewiring, house rewire, electric panel upgrade, transformer installation, electrical wiring upgrade, electrica panel, house rewire, electrician los angeles, knob and tube, electrical wiring upgrade los angeles,electrical services,electrician in los angeles, electricians in los angeles, electric company, los angeles, electrician 90036,